Overview
With an active and growing community, EaaSI platform needed to move beyond its development proof-of-concept existence towards a user-centered UI with features and functions to support the next wave of engaged users.
EaaSI bridges the gaps between legacy hardwares, software dependencies, and digital materials through configured and cataloged emulation environments. Ensuring future access to valuable content through a distributed software application.
Evolving digital technologies are a defining feature of our age. Digital materials are a commodity in every industry but they are fragile. Digital platforms change and their dependency chains are complicated and fluid. Loss of their longevity and utility threatens access to digital materials. The greater the importance of digital materials, the greater the need for their preservation: digital preservation protects investment, captures potential, and transmits opportunities to future generations and our own.
Roles & Responsibilities
Information Architecture, User Experience Design, User Interface Design.
Users and Audience
EaaSI supports digital preservation and key users would be digital archivists, librarians, and digital preservation managers. Secondary users would be students, professors, researchers, and library patrons in need of access to digital materials.
Use Cases
Interactive Artwork, Circa 1997: An Arts PhD student wanted to access an interactive CD-ROM-based artwork (Laurie Anderson's "Puppet Motel") from the general collections. The artwork can only be interacted with on old versions of the Apple Mac "classic" operating system. The Digital Humanities Librarian had a collection of old technology and was willing to bring a laptop into the library from his personal collection for the PhD student to use to access it on. This was not an ideal or sustainable solution (what would have happened if the collection wasn't available? What happens when that hardware degrades past usability?). This would be a great candidate for access in EaaSI. The sound and interaction aspects all work well and it is otherwise very challenging for researchers to access the content.
Hebrew Texts, Circa 2004: A Judaica librarian needed to access data on a Windows XP CD-ROM (Trope Trainer) for a patron. The software on the CD would not run on the current Windows 7 operating system that was installed on the PCs in the library. Another candidate for EaaSI as this version of the content can no longer be accessed on contemporary operating systems and the emulated version enables users to play through the texts and hear them read just as though they were using the CD on their local machine. The ability to easily export content from the emulation service will be added in a future update and will enable this content to become even more useful.

Finance Data, Circa 1998/2003: A Finance PhD student needed access to data (inter-corporate ownership data) trapped within software within a CD-ROM from the general collection. Unfortunately the software was designed for Windows 98. The student was able to get the data out of the disc but couldn't make any real sense of it without the software: "it was all just random numbers." Using a donated legacy laptop the platform team was able to ascertain that the CD hadn't degraded and the software still worked. This is another great candidate for the emulation service. The data is clearly of value but cannot be properly accessed without using the original custom software which only runs on older versions of the Microsoft Windows operating system.

Scope & Constraints
The initial scope was for a redesign of the project interface and new features targeting a desk-top only application.
Process
After several on-site kick-off days with the platform team and the emulation system development team from Germany I began design by outlining the core functions of the legacy UI with the new feature requests and attempting to construct a framework for the various features that would be intuitive to all users. Working closely with the platform team, I also worked through mapping user levels and feature permissions.

Outcomes and lessons
Our goal was to launch an updated UI for EaaSI, but the design directive was to "dream big" without many constraints. After months of working with users, and project teams to build the "Barbie Dream House" version of the platform, we had to restructure and create a version of the designs that could be executed with the current state of the emulation system and metadata model. The result is a great improvement to the user experience with lofty goals for the future though the process for the teamfelt like choosing your favorite child at times.
EaaSI is a novel approach to a digital preservation need, as such, the market, audience, monetization, potential funding, partnerships, and research avenues are still being discovered. The second round of funding required the project's goals to become more focused and constricted to finding a focus for the future direction for the platform and a scaling back of new design and development of features. My role in EaaSI is ending as they enter this new phase of discovery. Leaving a product feeling unfinished is  difficult but I have high hopes for the future of the platform and the team's efforts.
FEATURE: Dashboard
As a landing page for users, the dashboard is meant to serve as a home for the user, their actions, and their content.

FEATURE: Running Processes

From content additions to emulator upgrades, EaaSI requires communication of status for all users.
FEATURE: Search & Discovery

With user goals ranging from content producing to content consuming, search, faceting, and detailed metadata are core to the goals of EaaSI as a tool for preserving and building access to legacy software and content.

FEATURE: Action Menu & Slide UI

A keystone interface, the sliding UI supports all users from the browsing content consumer to node managers. The sliding UI offers a quick detail, emulation, bookmarking, project selection, privacy and delete settings.

FEATURE: Emulation Project Builder
One of the completely new interfaces that came out of initial discovery. The Emulation Project is functions like a shopping cart for users looking to combine or customize resources.The MVP feature was restricted by limitations of the existing metadata model, and the backend emulation system. As an active beta, the design directive for this phase of the project was to explore the ideal—say Barbie Dream House—interface that could leverage future metadata content integrations to guide users towards compatible hardware, settings, and resources.

FEATURE: User Resources
A close sister to the discovery interface, user resources allows users to track their temporary files, bookmarked resources, and contributions.

FEATURE: Import Resources
In the legacy EaaSI UI users were limited to immediately interacting with resources. The updated design allows for bulk import and temporary storage to support a flexible workflow for contributors.

FEATURE:  Node and Admin Management
To separate advanced and admin functions, a new node management and admin interface was created. With app and user management, node preferences, running tasks, emulator management, metadata and endpoint sync, node managers have the flexibility to control their local install of EaaSI.

FEATURE: Emulation

One of the pillar interfaces of EaaSI, the emulation interface supports access of emulated computer environments, software, and content. Functions of the import and discovery interfaces also integrate in a side panel UI to support the documentation goal of EaaSI inline, while emulating.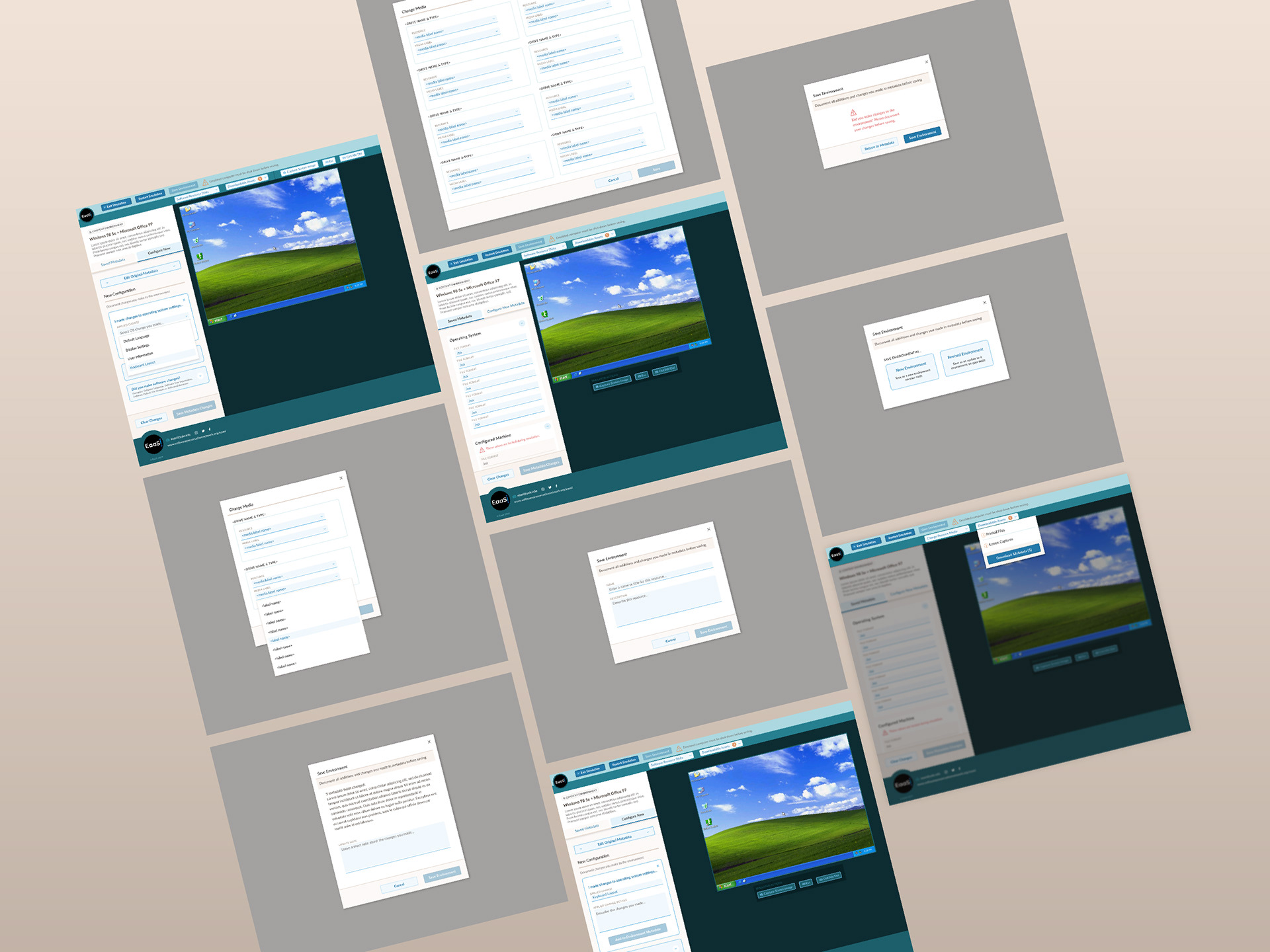 EaaSI (Emulation-as-a-Service-Infrastructure) Web Application Platform